Sony MZ-NHF800
introduced august 2004
- Portable minidisc recorder with tuner in the remote -
- can record up to 45 hours on 1 GB Hi-MD by using Atrac3plus 48 kbps -
A fantastic gadget....
Reviewed by Peter Ravn,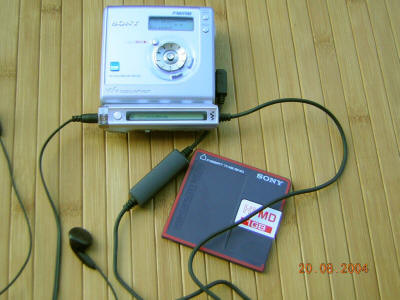 (Click on the pictures to get them enlarged)

.
---
Now the review....:
Below will you find my observations. I got the unit wednesday 18. august 2004. Observe that my mother tongue is danish and not english suo yore arre hwarnedz nhow! :-) :-)
I often listen to radio and MD, but it is frustrating to carry 2 units for that. Therefor this unit saved my day.
It is driven by 1 AA battery - you can use normal, alkaline, Ni-Cd or Ni-MH.
You get:
Main unit
Remote with built in radio (FM/AM)
Headphones
Optical cable
USB cable
3V adapter (power supply)
1 AA Ni-Mh 700Mah battery with carrying case
Carry pouch
CD with SonicStage 2.0 and MD Simple Burner 2
1 blank 1 GB Hi-MD disc
User manual
---
Main Unit
Buttons:
Navi/Menu: Navigation and Menu button
Group: Group button
T. Mark/Rec: Add or erase a track mark/record mode
Rec: Begins recording/recording standby
Jog dial: Navigate in groups/tracks and the menu

5 way button (placed in the center of jog dial):
Enter: Enter the menu/selects menu options
I<< / >>I : Fast rewind/forward and scrolls through the menu
Play: Starts playing
Volume -/+: Volume

Pause: Pause playing/recording
Stop: Stops playing/recording / charge battery
Hold: Lock the buttons
Open: Open button
Display:
The display can show the following information (not everything at the same time): Track/disc name, grop name, artist name, tracknumber, time, sound, recording mode, play mode, battery indication, level meter, synchro-recording indication, volume, disc indication, bookmark. The LCD display has 3 lines. The contrast can be changed.
Inputs:
Line in/optical in
Mic in
USB in/out
Outputs:
Headphone (3 mW + 3 mW, load impedance 16 Ohm)/remote/line out [the non-european versions have 5mW + 5mW output power]
It plays louds enough for me.
Dimensions: 81*29.2*78.9 mm (w/h/d). Mass: 103 g (without battery).
The unit is made of plastic - it makes it light, but also make it feel "cheap".
---
The Remote
First: It is not possible to record from the radio, because the MD turns off when you start the radio. Which is nice for me, because then it is easy to shift from MD to radio. Shift from radio requires to stop the radio and start playing the MD.
The radio can handle 30 FM presets and 10 AM presets. FM is from 87.5 to 108.0 MHz. AM is from 531-1602 KHz (530-1710 KHz in the american model).
The remote has a built in AM antenna and the headphone cord act as a FM antenna.
On the train journeys have I experienced reception as good as my old Philips radio and the -G750. So I am satisfied with the soundquality in the radio (so far).
At the beginning of a song the track title and artist name scrolls once then lap time are shown - press display to view again.
Buttons:

Radio on/off: Turns on/off radio

Volume -/+: adjust volume on MD and radio (volumes can be different on MD and radio)
Jog Lever (F-/F+): Play/pause/rewind/forward on MD, frequency/preset selection on radio
Stop: Stop MD playing/turns radio off
Group -/+: Goes back/forward to previous/next group (on discs without groups it skips 10 tracks back/forward)
Hold: Lock the buttons
Display: Changes display mode
P mode: Selects play mode
Sound: Selects sound mode
Display:
Radio : Preset number, frequency, volume
MD: Track number, track name, group name, disc name, lap time, volume, battery indication, play mode, sound mode, bookmark, recording level

The volume buttons are a little hard to use - too small and wrong placement. When I will stop playing I often press the group buttons instead :-(
and the radio on/off button also.... I think Sony need to re-work the design of the remote - I better like my -G750 remote... (the G750 remote does not work on the NHF800....)
---
Playing, recording, battery life etc.
This unit has Hi-MD meaning that you can record up to 45 hours on a 1 GB Hi-MD disc if you select Atrac3plus 48 kbps record mode. Hi-LP mode (64 kbps) gives you 34 hours, Hi-SP (256 kbps) delivers almost 8 hours and mic/line in/optical in recordings can use PCM quality which gives about 95 min on a disc. On 48 kbps the soundquality is better than expected but there is less "air". Hi-LP is better and I will use it much I guess. Hi-LP sound much better than expected.
To enhance the sound do you get VPT acoustic engine to create virtual surround and 6-band equalizer. There is two custom settings to create your own preferred sound.
The manual setting of the recording level can be set during recording and you change the level on analog and digital recordings by turning the jog dial on the unit or the jog lever on the remote. The recording level for left and right channel are displayed, but the level cannot be adjusted separately.
When adjusting recording level manually (recommended) is there on the unit symbols for -12dB and "Over" (see figure from the user manual below).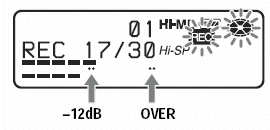 It is possible to let the recorder automatically add track marks from 1,2,3 etc. minutes interval up to 60 minutes interval. This only works for analog recordings.
The jog dial works ok and I like it is possible to see what other tracks/groups on the discs without have to stop the current song playing. The LCD on the unit display 3 lines and scrolls frequently automatically and shows track name, album name, artist name and disc name and by pressing display on the remote can you get more information shown.
I find the 5-way button hard to use - I prefer the remote...
If you use the headphones connected throgh the remote it will beep when you hit a button, but it is possible to turn the beep off.

There is an option called "Quick mode" on/off - with it on the unit should stay on even if the display is blank and start up time should be faster. The drawback is of course that it consumes more power this way. It works fine when I start up playing disc, switching to/from tuner is not faster. With quick mode on the start up time is about 1 second. With quick mode off is it about 15 seconds (in Hi-MD mode, MD's starts up in 5 seconds time)! I recommend you to switch this mode on, but I don't really know how much playing time it costs.
Battery life:
[Taken from the manual.]
When recording a 1GB Hi-MD:
| | | | |
| --- | --- | --- | --- |
| Batteries | PCM | Hi-SP | Hi-LP |
| NH-7WMAA* | 3h | 4.5h | 5h |
| LR6 (SG) Sony Alkaline | 2.5h | 3.5h | 4.5h |
When playing a 1GB Hi-MD:
| | | | |
| --- | --- | --- | --- |
| Batteries | PCM | Hi-SP | Hi-LP |
| NH-7WMAA* | 4.5h | 7.5h | 9h |
| LR6 (SG) Sony Alkaline | 11h | 18.5h | 21.5h |
When using the radio:
| | |
| --- | --- |
| Batteries | Approx hours |
| NH-7WMAA* | 7.5 |
| LR6 (SG) Sony Alkaline | 18.5 |
*: 700 mAh, by using a higher capacity battery is it possible to triple the recording/playing durations
It's too early for me to make comments on these numbers.
---
Connected to a computer
You record directly from a CD through a PC computer with MD Simple Burner 2. It copies a CD in about 4 min in Hi-LP mode. This is my first NetMD recorder so that's really an improvements upon real time recording. A CD (63 min.) takes about 5 minutes in LP2 mode on a standard MD. It works flawless on my computers. Simpler Burner can transfer PCM (only on the newest versions), Hi-SP, Hi-LP and 48 kbps mode to Hi-MD discs. Standard discs can get LP2 and LP4. Sonic Stage 2 offers more bitrates for Hi-MD - the above plus LP2, 105 kbps and LP4.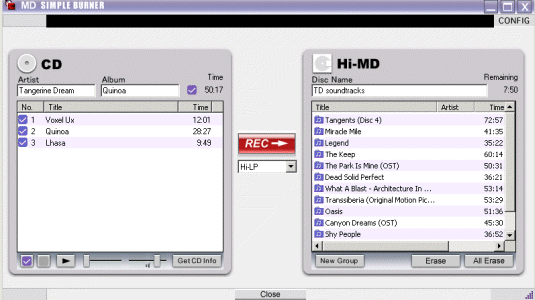 With Sonic Stage 2 you can you move/copy music to the NHF800. Hi-MD discs can be played on the computers speakers, old MD's will only be played on the unit.
Tracks recorded (only in Hi-MD mode) on the NHF800 can only be transfered one time with Sonic Stage and you cannot make a regular audio CD of the tracks.
If you want to transfer a PCM recording then you can let the unit play it on the computer and record it with Totalrecorder (http://www.highcriteria.com) as a WAV file. Done that way you get it digital and you are not limited to one computer and can create an audio CD with your recording. See discussions here for more information. In the autumn Sony will release a Wave converter to allow CD burning of PCM files [info]. You can also see here for a another upload program.
Before you can transfer music with Sonic Stage 2 must you import the music to the computer thus you cannot transfer music from a CD directly to the MD.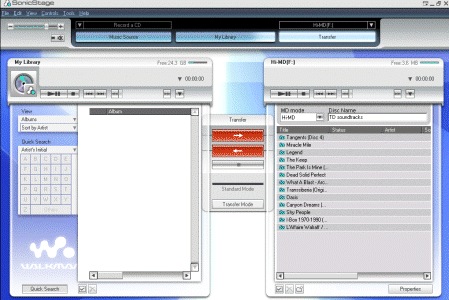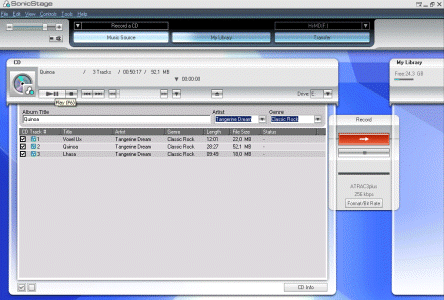 BTW Hi-MD allows up 2047 tracks (254 on old MD) and up to 55.000 characters for titling (old MD had 1.700). More characters are allowed from different european countries. See the palette (from the user manual):

---
Pros and contras
Pro:
Built in radio
Hi-MD
NetMD
Small
Recording level can be set during recording
Operates with a single AA (LR6) size battery
Can store normal PC data on Hi-MD formatted discs
Good sound
Fast start-up (when quick mode is on)
Contra:
It is not possible to record from the tuner
No backlit in main unit and remote
Old MD's cannot be uploaded
No date/time stamp
ALL IN ALL: I strongly recommend this product.
Compared to.....
Compared to the -G750 the NHF800 offers: Hi-MD, NetMD, more recording modes e.g PCM (CD quality), recording level can be set during recording, group mode, bookmarks, sound equalizer, can play one artist tracks, in the remote the titles are displayed and shorter battery life
---
User manual (PDF) - Hi-MD planning calculator
---
---
Photos by Peter Ravn (with a Nikon Coolpix 2200).
Last edited by Peter Ravn.
FastCounter by bCentral